| | |
| --- | --- |
| | Printing + Magnetic Sheet |
| | |

| | |
| --- | --- |
| | Fridge Magnet / Refrigerator Magnet |
| | |
- The structure of the fridge magnet is printing matter on the top and rubber magnet at the back. (see detail)

- Refrigerator magnet, magnetic photo frame, magnetic calendar, magnetic puzzle, magnetic writing board and magnetic poetry are also the same products because the structure or production process is the same, the only different is on the die cut or graphic design. Our quote is based on your order size and quantity, no matter what information you want to printed.

- This magnet is flexible, and the most popular thickness is 0.5mm or 20mil
---
Fridge Magnet / Refrigerator Magnet / Business Card Magnet

- According to the statistics, we will open and close the fridge about 40 times everyday in a family. And the useful life of magnetic products can reach over 5 years or above. Therefore, we can see that the magnetic products on the fridge for the promotion is so effective and lasting so long.

- The reason why magnetic advertising is so popular is because the production cost of fridge magnet is inexpensive and extremely cheap way to get your firm's name posted in thousands of locations. Domino's Pizza gives out a magnet with every delivery that includes their logo and the phone number of the local branch.

- Refrigerator magnets are an interesting subject for certain collectors due to distinctive design gives a superior image to these refrigerator magnets.



---
Magnetic Photo Frame / Picture Frame Magnet

- Using the magnetic photo frame, we can stick our family member or friend photos on the fridge or memo board. The magnetic photo frames are one of the most popular magnetic products in family.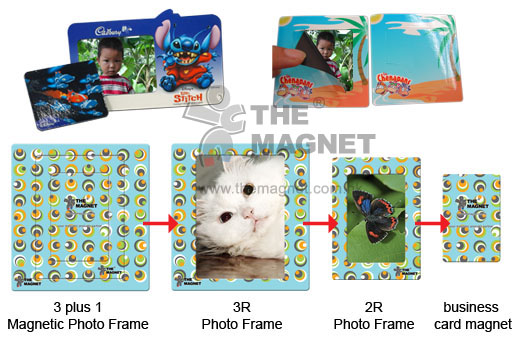 ---
Magnetic Calendar

- Calendar magnets are company best choice. Besides it is printed with the calendar, it is printed with the companie's logo and information. Send to your clients as a gift, your clients usually put it on the furniture or fridge. Everyday of each year, your clients will remember you through this calendar magnet.



---
Magnetic Puzzle

- The main different different between fridge magnet and magnetic puzzle is just the die cut. This magnet divided into lots of smaller piece in order to let people have fun when combine together.



---
Magnetic Writing Board

- There is usually a blank space for user to write some message with easer marker.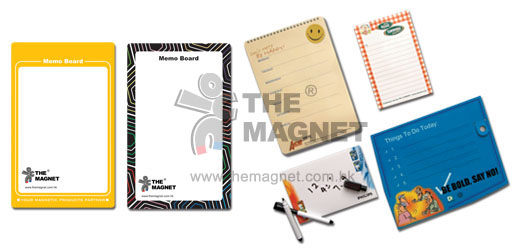 ---
Magnetic Poetry / Message Magnet

- Message Magnet or Magnetic Poetry is a popular word game / toy invented in 1993 by Dave Kapell. Each Magnetic Poetry Kit is a collection of hundreds of magnetic word tiles, each of these with a different word or word fragment printed on it. The whole collection is stuck on a steel surface (typically a refrigerator door or file cabinet), where the user arranges the tiles until they form into snippets of "poetry". Millions of Magnetic Poetry Kits, in dozens of different languages and themes, have been sold around the world. (copy from answers.com)

- Have fun while getting your message across to your child!